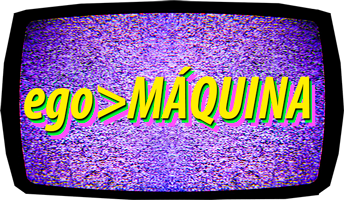 EgoMachine is a video installation designed for public spaces. It has the shape of a tower and is entirely build with old electronic devices. From the interaction with the viewer, the system emits multiple questionings with the different faces that appear on the screens. It combines images and sound in order to generate an unique experience for each visitor's interaction.

EgoMachine has already been in the Conjunto Nacional, República Metro station and the Boulevard Tatuapé Mall in São Paulo (version 1.0). After that, it was in the Museum of Human Rights of Mercosur (version 2.0); and finally Porto Alegre's bus station (version 2.2). Each exhibition showcased a new version with improvements such as new video content and enhancements in software and hardware.

Egomachine is based on the original text "Os Incomodados" by Fernando Bonassi, and runs on free software such as Linux Mint, VLC Media Player and NodeJS.
What is EgoMachine?
An interactive work of art with over 4000 videos.
A Paranoid algorithm
An intervention in public space
A digital work in progress
An interface with faces
A video installation made of electronic waste
A simulator of collective consciousness
A combinatorial generator of questions in 360º
A kaleidoscope of audio and video
Images
EgoMachine's Team
General Coordination:
Pedro Harres
Artists:
Pedro Harres
João de Ricardo
Otávio Donasci
Software:
Gabriel Giacomini
Video Editing:
Matheus Heinz
Production:
Cris Marçal, Guadalupe Casal (Fio Produtoral)
Sound Design:
Tiago Bello, Marcos Lopes da Silva
Links